Computer Science & Information Technology
CSIT provides a realistic balance between theoretical understanding of computation and how to build the secure databases and systems. The Computer Science will be more involved with algorithm formulation, software development and implementation, while the Information Technology will likely find a career in web development, system administration, computer security, user support, etc.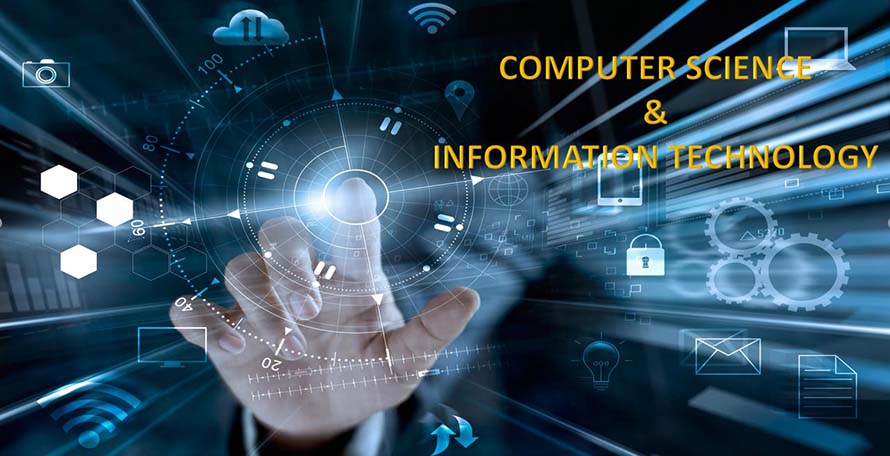 CSIT plays a major role in the field of communication, Inventory management, Data management, Management information systems, and customer relationship management. It concentrates on the study of utilizing computers and telecommunications in order to control, gather, store and circulate information.
The work of CSIT people is to interact with people from all organizational functions in designing and implementing computer applications. Computer Science and Information technology can take together with the major in Computer Science / Information Technology (double major), or another minor of your choice.
The main objectives of department are to provide:
1. Design and develop
2. Real time work experience
3. Employability
The department has academic laboratories like programming for problem solving using C , data structures, database management system, programming with objects, linux internals, big data and business analytics, case tools, web technologies, cloud application development, data warehousing and data mining, advanced python programming and object oriented modelling, etc. The infrastructure and lab facilities are upgraded from time to time and provide good practical learning and innovative environment for the students and researchers.
The students are nurtured with a variety of learning activities including and not restricted to class room teaching, presentations, video lectures, and online courses by faculty in the institute and across the globe.
Technical Association for Computer Science & Information Technology (TACSIT) organizes regular co-curricular and extra-curricular activities for the all-round development of students. It organizes seminars, workshops, group discussions, etc. student's chapters give easy access to information on the latest trends and developments in the field of Computer Sciences and Information Technology.
Students are encouraged to take up industry oriented projects, participate in hackathons and coding competitions.