Master of Business Administration
Master of Business Administration is designed to make the students business-ready and capable of responding to complex business requirements that arise in a changing global business environment. The program focuses on skill development, team-work, inclusivity principles and value-based management creating "Business Ready Managers". The program aims at making a student to expertise in various specializations including, Finance, Human Resources Management, Marketing, Systems and Entrepreneurship Management.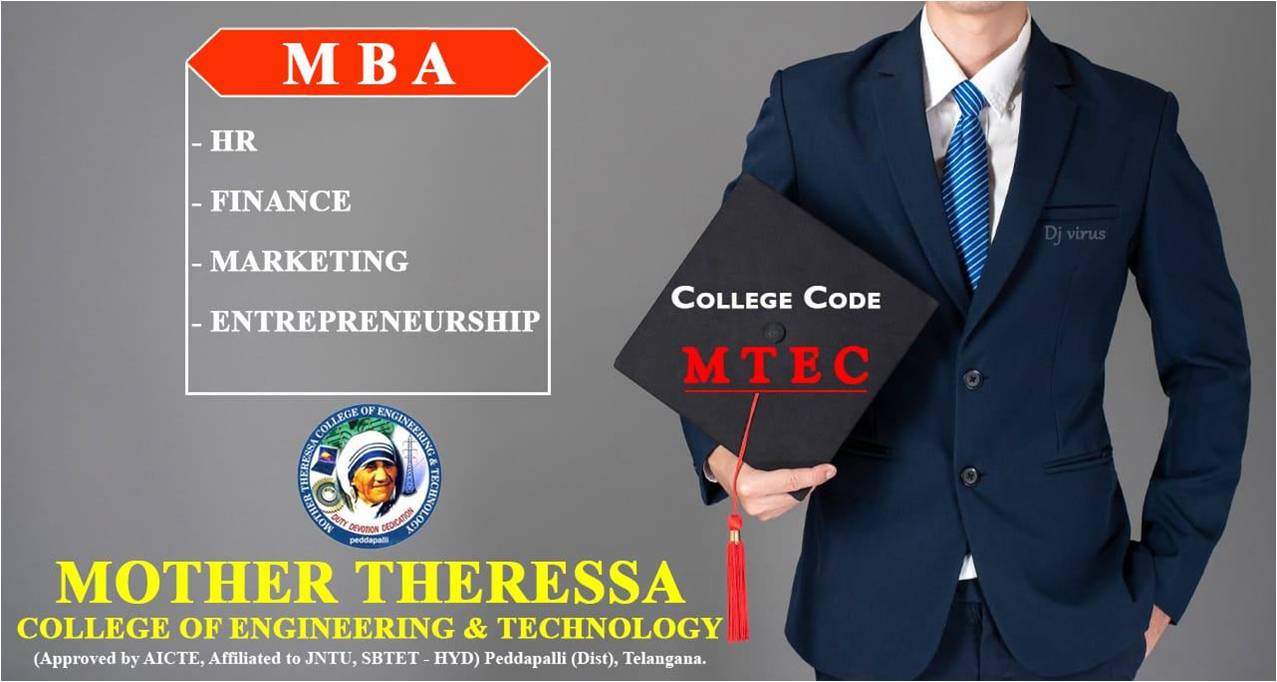 The Master of Business Administration is a Post graduate programme approved by  AICTE, affiliated to JNTU, Hyderabad. The department highly equipped with qualified experienced faculty, conducting extra  classes by providing live projects of industries through industrial visits. MTEC is proud & happy to announce we achieved of "District Topper Rank "in MBA  from its First batch in held MBA University exams and placed many MNC companies  and they are in good positions. Our Students have been achieved outstanding results in the last five academic years result  percentage has been enhanced significantly to 95% on whole.
There are four Types of MBA Specializations are equipped with the department Viz.,  Finance, HR, Marketing and Entrepreneurship. So far the department has been conducted so many events like MTEC MBA SMART  FESTs and Organized one National Level Conference.
The MBA program helps the students and entrepreneurs to advance their knowledge in a business environment, finance, economy, management, operations, systems and marketing for professionals looking to improve their career by seeking employment in management positions. The program is striving to lead students with specific skills in administrative and leadership positions in both public and private institutions. 
The uniqueness of the program is to students interact with successful entrepreneurs from diverse backgrounds through the specifically established centers like, Science and Technology Startup Part (STSP), Entrepreneurship centre and Technology Innovation and Incubation Centre (TIIC). Studying, MBA program is also a great opportunity to build entrepreneurial network and promotes start up initiators. The program focus on holistic learning experience in the form of industrial visits and management meets to bring the immersive learning with real time experience.
The program is made up of international experiences as a part of international connects to the faculty and students to avail the facility of internship at foreign universities in more than nine countries. Getting enrolled in a Master of Business Administration (MBA) program is an excellent opportunity to enhance knowledge of the business world and gain management skills for a fulfilling career. Most sophisticated experience can gain between admission and the convocation; there are semesters and mid-terms to take, projects to complete, and a lot of studies to do.